USDA announced today a proposal to allow pork producers to run their slaughtering lines as fast as they want in exchange for conducting their own food safety inspections. It's a warped example of cost-benefit analysis and one that could have serious consequences for workers and consumers.
Under the plan, the cost to companies of self-inspecting will be offset by higher production and thus higher profit. The USDA's calculations, however, fail to include the cost of injuries to the pork-processing workers that will result from increased line speeds. Pork-processing plants operate currently at about 1,100 swine head per hour. The proposal would remove the cap on line speeds. The animal slaughtering industry already has the highest incidence rate of occupational illnesses than any other U.S. industry (SNR12). Those numbers include carpal tunnel syndrome, tendonitis and other musculoskeletal injuries.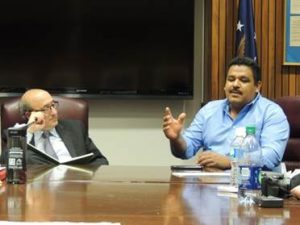 "Workers who bring food to our tables deserve safety and dignity on the job, and consumers deserve and demand safe food," said Jessica Martinez, co-executive director of National COSH. "Raising line speeds in pork processing plants will only make a bad situation worse."
A study published in 2010 in Occupational and Environmental Medicine examined work-related injuries at hog-processing plants in Iowa and Nebraska. Workers who suffered lacerations were interviewed by researchers within 14 days of their injuries. Notably, the most frequently reported contributing factor reported by workers was being rushed. Nearly half specifically mentioned keeping up with line speed as their reason for rushing.
The consumer advocacy group Food & Water Watch (FWW) monitors closely the government's plan to privatize meat and poultry inspection. FWW points to an Inspector General (IG) report from 2013 as an example of why the USDA's plan is bad for consumers who eat pork. The IG's report chastises USDA for inadequate oversight of a pilot program on self-inspection by pork processing companies.
FWW is urging the Trump administration to abandon the privatization proposal. The group's executive director, Wenonah Hauter, said:
"It is unacceptable to put public health, worker safety and animal welfare at risk so that the pork industry can run faster lines and inspect itself. We urge the USDA to withdraw this proposed rule."
Former OSHA official Debbie Berkowitz also criticized the USDA proposal:
"Speeding up the number of hogs processed each hour in a plant will result in an already dangerous industry becoming even more dangerous, further jeopardizing the safety of all its workers.

"The only beneficiaries to this rule are the huge meatpacking companies like JBS/Pilgrim's Pride—companies that already make millions in profits yet report among the highest numbers of severe worker injuries."
USDA is giving the public 60 days to comment on the proposed changes. They should expect to receive feedback from thousands of consumers and animal rights advocates. USDA should prepare to hear from pork processing workers who will explain why raising the cap on line speeds will make their jobs less safe.