Dolores Huerta was 25 years old, working at a community services organization in Stockton, California, when a farmworker who had been paralyzed by a stroke came seeking help applying for welfare.
Because the man couldn't walk, Huerta took him to the local social services office, where a worker refused to allow the man to apply for benefits.
Her boss told Huerta to go back to the welfare office and demand to see a supervisor.
"I thought, 'I can do that?'" Huerta told a packed audience at the annual meeting of the American Public Health Association (APHA.)  Here at The Pump Handle, we are sharing some of the great reporting from San Diego, courtesy of the APHA Annual Meeting blog.
Huerta continued, "He didn't say, 'I'm going with you,' or 'I'm going to make a phone call and let them know you're coming.'"
Huerta returned to the welfare office, demanded to see a supervisor, explained the problem, and the paralyzed man was able to successfully apply for assistance. That was the moment, Huerta said, she realized she had power.
"It was such a revelation for me," said the now legendary community organizer who, along with also-legendary labor organizer Cesar Chavez, founded the United Farmworkers of America.
"Instill into people that they have power," she told the packed audience. "Let people know, and then give them the courage so that they know they can stand up for themselves."
Banners around the San Diego Convention Center are promoting the idea that power is health. That's a message from the California Endowment's 10-year "Building Healthy Communities" initiative. The endowment's Robert Ross, who moderated today's session panel, told the audience his organization has "undergone a transformation ourselves as a private foundation committed to addressing and eliminating disparities." While the foundation once took more of a "clinical and health coverage approach," now efforts focus on power, belonging and changing conditions so communities become healthier.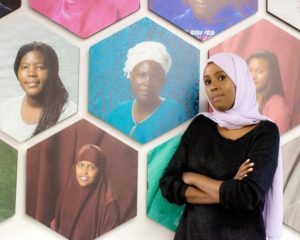 San Diego's City Heights neighborhood is one of the Building Healthy Communities' 14 focus sites across the state. Panelist Ramla Sahid, founder and executive director of the Partnership for the Advancement of New Americans, grew up there after her family moved to the United States from Somalia, and she now works as a community organizer working to help the people who live there affect change. Efforts include one to reverse the school-to-prison pipeline.
"We have to move at the speed of trust, as one of our elders said," she told the audience. That means taking the time to build trust with people who can make a difference. In this case, it was the presiding judge and the police chief. She said building that trust takes a lot of time and requires both sides sharing fears and concerns. Continue reading…