Under the workers' compensation law in Texas, if a firefighter develops cancer it is presumed to be work-related. That's not what's been happening.
The Texas Department of Insurance (TDI) reports that for the most recent seven-year period, 87 percent of the claims filed by fire fighters with cancer were denied. For me, the 87 percent means even more when I look at the numbers. In 2016, for example, 33 of 35 cancer-related claims filed by fire fighters were denied. In 2017, all 24 cancer-related claims were denied.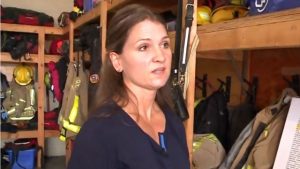 In July, I wrote about Patrick Mahoney, a 16-year veteran with the Baytown, TX Fire Department. Mahoney said it was a "slap in the face" when the city challenged his workers' compensation claim. The Houston Chronicle's Nick Powell wrote about the Baytown firefighter.
Other reporters in Texas have profiled other firefighters with the same experience. This includes Austin, TX firefighter lieutenant Carrie Stewart.
The data in the TDI report confirms that Mahoney's and Stewart's experiences are not outliers, but the norm. The agency's brief analysis "Emerging Issue: Firefighter and EMT Cancer Presumption," was part of its biennial report on workers compensation for the Texas Governor and Legislature. TDI explains that this issue may be on the minds of some lawmakers in the upcoming legislative session.
The agency describes the firefighter and cancer presumption issue this way:
"As most firefighters and EMTs are employed by political subdivisions, the denials are mainly coming from individually self-insured cities or municipalities, or political subdivisions that are part of larger intergovernmental risk pools. At times, political subdivisions have interpreted the International Agency for Research on Cancer (IARC) information to argue that only three types of cancer: prostate, testicular, and non-Hodgkin's lymphoma, qualify for the statutory presumption under Texas Government Code, Chapter 607.

Firefighters, EMTs, and their beneficiaries argue that any cancer that can be tied to on-the-job exposures documented by IARC are presumed to be work-related. As a result, the statutory presumption language in Texas Government Code, Chapter 607 is interpreted in different ways by different parties in the workers' compensation system."
Firefighters are exposed to a toxic soup of chemicals, stress, and other hazards that increase their risk of cancer. These exposures occur during their emergency response activities, as well as in their fire stations. Analyses of data from cancer registries find that firefighters are at a higher risk of developing melanoma, multiple myeloma, and cancers of the esophagus, lung, brain, kidney, and other sites (e.g., here, here, here, here.)  A  study of cancer incidence and deaths among firefighters in San Francisco, Chicago, and Philadelphia that was published in 2015 brought greater attention to the problem. It led the International Association of Fire Fighters (IAFF) and other groups to push for a national cancer registry for fire fighters.
What the TDI report doesn't disclose are the names of the Texas cities and municipalities that have denied the cancer-stricken fire fighters' claims for workers' compensation. I don't want my city to be on that list.
At the first city council meeting in 2019, I plan to speak during public hearing session. I'll make sure the mayor and city council are aware of the issue; I'll ask them to determine whether our city has denied any of our fire fighters' claims for cancer; and I'll ask them to direct the city manager to put a policy in place to prohibit denying workers' compensation coverage to our firefighters and EMTs if they develop cancer.
There's always a lot of flag waving and patriotism expressed in communities about the firefighters. Those are empty sentiments if decision-makers in those communities deny medical care coverage and lost wages when firefighters are made ill because of their jobs.