A group of South Florida firefighters say getting cancer because of their job concerns them more than the other dangers they face. That insight comes from "Perceptions of health and cancer risk among newly recruited firefighters in South Florida," a new paper published by researchers with the University of Miami Schools of Medicine and Public Health Sciences. The study appears in the American Journal of Industrial Medicine.
The research involved focus groups with nearly 60 career firefighters (both rookies and experienced). They discussed their perceptions of health risks related to work-related injuries, stress, and chronic disease.
The authors report several themes that particular caught my attention. One is the firefighters' expectation that they are more likely to die from cancer and heart disease than from a fatal injury. During a focus group, one firefighter commented:
"When you think of firefighters dying, it's some guy going down in the blaze of glory as he hands out the baby. Dying in a bed down at the cancer center is unfortunately the reality."
NIOSH researchers published a paper in 2014 that reported excess cancer mortality among nearly 30,000 career firefighters from San Francisco, Chicago and Philadelphia. Asbestos-related cancers were of particularly note.
Another interesting theme from this new Florida study of firefighters was the effect of a co-worker's cancer diagnosis or death from cancer on prevention efforts. Firefighters suggested it caused them to think about ways to reduce their exposure to carcinogens. They described to the researchers, for example, handling differently their outer gear to decrease exposure to diesel. They also mentioned keeping baby wipes handy so they can wipe their faces and necks immediately after a call rather than waiting to get back to the firehouse. The authors write:
"The strongest force behind the cultural shift toward safety appears to be encountering older firefighters who worked in an environment that emphasized machismo, and later went on to be diagnosed with cancer."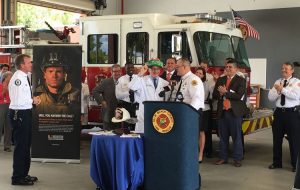 One firefighter commented that some in the profession think they are expected to be "macho." He rejected that view: "I want to go home to my family and have a career, I want to have a life after I retire."
This study is one product of the Firefighter Cancer Initiative (FCI), a program funded by the State of Florida. It was established in 2015 to investigate firefighters' exposure to carcinogens, prevalence of cancer, prevention methods. FCI's researchers include faculty and staff with the Sylvester Comprehensive Cancer Center and the University of Miami Miller School of Medicine.
Members of Congress are also supporting research to examine the prevalence of cancer among firefighters. In September, the U.S. House of Representatives passed unanimously "The Firefighter Cancer Registry Act" (H.R. 931). It would provide CDC with $2.5 million to create the voluntary registry which could be linked with existing state cancer registries.
The U.S. Senate has not taken up the bill.