One of the many cheering aspects of last week's midterm election results was the news that Representative Eddie Bernice Johnson (D-Texas) is poised to assume leadership of the House Committee on Science, Space, and Technology and plans to "Restore the credibility of the Science Committee as a place where science is respected and recognized as a crucial input to good policymaking." Current committee chair Lamar Smith (R-Texas) won't acknowledge that humans cause climate change, and used his position to push legislation that would have made it harder for EPA to use the best science when regulating.
We need a strong Congressional defense of science because under the current administration, leaders of many federal agencies are suppressing, ignoring, and distorting evidence that we should be using to improve public health. A new report from a wide-ranging group of organizations — including the Jacobs Institute of Women's Health, where I work — describes threats to the use of science in government decisions regarding public health, and recommends steps Congress can take in response.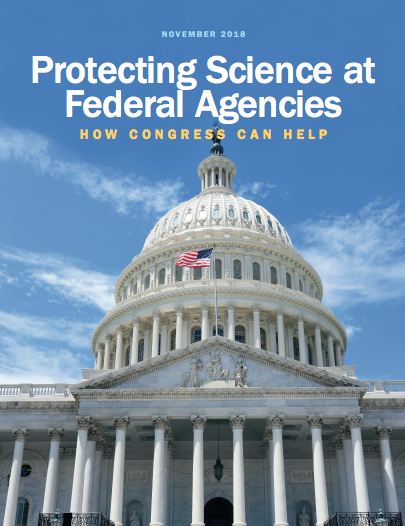 The organizations that contributed to the report include science, public health, environmental, government oversight, and whistleblower protection groups. We worked together because we recognize a disregard for science hurts all of the constituencies we care about, from teens who need evidence-based sex education to  communities suffering from the impacts of climate change.
Politicizing science
One example of an anti-science agency action is the abrupt termination of Teen Pregnancy Prevention grants. The TPP program is a model of evidence-based grantmaking that directs 25% of its funds to develop, test, and evaluate approaches to preventing teen pregnancy, and 75% of its dollars toward replicating models that have been demonstrated to change behavior. Grantees deliver programming and study outcomes in five-year cycles. In July 2017, 81 grantees were notified that their grants would be ending two years early — a move that cut off not only programming to thousands of young people nationwide and but also the knowledge the five-year grants would have generated. Halting a study before investigators can finish collecting and analyzing data is a tremendous waste of resources.
Several courts have found that the Trump administration acted unlawfully when it cut short these TPP grants, but it is still trying to redirect funds that, according to Congressional instructions, are intended to support evidence-based prevention projects.
TPP grants aren't the only investigations that federal agencies have halted before they could deliver evidence to guide future actions. The Department of the Interior abruptly instructed the National Academies of Sciences, Engineering, and Medicine to halt work on two studies about resource extraction: one on the health impacts of "mountaintop removal" mining in central Appalachia, and one on how DOI could improve inspections of offshore oil and gas development to avoid another disaster like the 2010 Deepwater Horizon explosion that killed 11 workers and damaged coastal communities. At EPA, a public affairs appointee has started reviewing all grant awards; he reportedly looked for the term "climate change," and canceled almost $2 million in grants that had been competitively awarded.
Subverting the normal process for awarding grants and allowing funded studies to proceed as scheduled suggests that Trump's appointees don't want to hear the results of scientific studies that might tell them things they'd prefer not to believe — for instance, that comprehensive sex education helps teens avoid pregnancy, that more regulation of fossil-fuel extraction could better protect communities, or that human-caused climate change is harming public health. Such an appearance of politicizing science damages public trust in government as well as slowing the generation of evidence that could help us improve public health.
Other problematic actions that cut across issue areas include:
What Congress can do
The report recommends several steps for Congress, including holding oversight hearings and requesting investigations; strengthening protections for whistleblowers; and passing legislation requiring agencies to adopt strong scientific integrity policies with enforcement mechanisms.
One example of an effective request for an inspector general investigation came from Representatives Donald Beyer and Gerald Connolly (both Democrats from Virginia). They asked EPA's Inspector General to investigate the process by which then-Administrator Scott Pruitt appointed former banker Albert Kelly—who lacked relevant qualifications and had recently been fined by the Federal Deposit Insurance Corporation—to lead a Superfund task force. Days after they made that request, Kelly resigned — and, of course, Pruitt himself also departed the agency after his actions became the subject of more than a dozen investigations.
In addition to requesting and undertaking investigations, Congress could also provide federal employees with better mechanisms for addressing scientific integrity problems by strengthening whistleblower protection laws and requirements for scientific integrity policies. With a 2009 executive order, President Obama instructed agencies to develop scientific integrity policies; the Union of Concerned Scientists found that the resulting policies "vary greatly in strength, scope, and completeness." They generally provide few specific procedures — such as hearings or appeals — for those who have alleged violations of the policies and not received a satisfactory responses. Congress could write requirements for scientific integrity policies into statute, and require agencies to develop more specific enforcement processes and others procedural protections for those who raise concerns about scientific integrity violations.
If we're going to address the public health challenges of the 21st century effectively, we need federal agencies to be supporting high-quality research, communicating clearly and accurately about findings, and paying attention to evidence and scientific experts when making policy. I hope Congress will help make this vision a reality.
Read the report: Protecting Science at Federal Agencies: How Congress Can Help