A few months ago, I wrote about a set of recommendations endorsed by my organization, the Jacobs Institute of Women's Health, and dozens of others for restoring the role of science in the executive branch. Now there's a follow-up set of recommendations for specific federal agencies to start fixing the damage to public trust and rebuilding their capacity to use science to address the challenges we face. Restoring Science, Protecting the Public: Recommendations for Federal Agencies in the Next Presidential Term also carries endorsements from a wide range of public health, environmental, good-government, consumer, and human and civil rights organizations.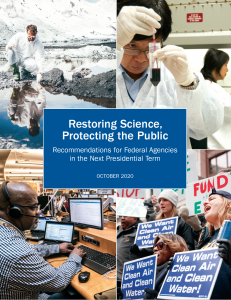 One thing these newest memos have in common with each other is that they all stress the importance of filling vacant positions and adding new scientific capacity—and doing so in a manner that ensures agency workforces, including senior leadership, reflect the diversity that is such a strength of the US. Specific recommendations in this area include increasing the emphasis on diversity when evaluating applicants to federal advisory committees, ensuring that grant and fellowship programs welcome a diverse array of applicants, and requiring agency leadership to respond to the 33 asks that CDC employees raised in a letter calling on director Robert Redfield to address workplace racism and discrimination. In addition to these common threads, the memos recommend steps that are specific to several agencies' mission areas:
Department of Agriculture (USDA): Repair and rebuild the agency's Research, Education, and Economics mission area, which was particularly damaged by the abrupt relocations of both agencies in 2019. Invest substantial resources in research that helps ensure the sustainability and resilience of our food and farm systems—a priority that is especially urgent given the threats posed by the climate crisis.
Department of Health and Human Services (HHS)—Public Health: Restore and safeguard public trust by strengthening scientific integrity and media policies and creating additional procedures to prevent political interference with advice that should be based on public health evidence. Ensure research funding is based on merit and continues without unwarranted interruption. Collect appropriate data and act in accordance with the evidence.
HHS—Sexual and Reproductive Health, Education, and Services: Use evidence to drive programs on sexual and reproductive health education and services, like the Title X family planning program and Teen Pregnancy Prevention Program. Ensure that rulemaking and enforcement by the Office for Civil Rights are based on evidence and an up-to-date definition of discrimination. Require that evidence rather than political considerations drives drug and device approval and guidance decisions.
Department of the Interior (DOI): Issue and implement secretarial orders to ensure planning and management decisions are made with accepted science, good data, environmental analysis, and maximized public input. Provide increased funding for DOI research and programming that focus on greenhouse gas emissions, building the resilience of communities and ecosystems, and land and wildlife conservation. Restore adequate funding to the Freedom of Information Act program and direct it to facilitate information sharing to the maximum degree allowed by law.
Environmental Protection Agency (EPA): Eliminate the rule that claims to advance transparency while limiting the scientific studies the agency can consider. Reverse cuts to federal advisory committees and rebalance committees whose membership was damaged by a policy prohibiting EPA grant recipients from serving on FACs. Strengthen the agency's scientific integrity policy's provisions protecting EPA science from political interference and censorship.  Undertake a complete review of the actions taken and refused over the past four years and, for those actions found to be contradictory to scientific evidence or norms, begin the process of fixing them.
National Oceanic and Atmospheric Administration (NOAA): Improve the agency's scientific integrity policy to provide full accountability and ensure strong training, communication, and implementation around the policy. Provide robust and accessible climate change services and leadership. Advance partnerships in ocean science and technology.
Occupational Safety and Health Administration (OSHA), Mine Safety and Health Administration (MSHA), National Institute for Occupational Safety and Health (NIOSH): All of these agencies should use evidence to drive regulation of major hazards and improve preparedness, with NIOSH in particular playing a more active and visible role in preparing for and responding to crises like the COVID-19 pandemic. OSHA should collect more comprehensive, high-quality data to guide its enforcement activities, and make that data accessible to the public. OSHA and MSHA should ensure appropriate disclosure and analysis of information that informs rulemaking.
Office of Science and Technology Policy (OSTP): Help all scientific agencies adopt policies and practices that safeguard and strengthen scientific integrity. Develop a task force on rebuilding scientific capacity, assist with strengthening of federal advisory committees, and contribute to improvements in awarding of scientific grants and standardization of international scientific collaborative practices.
In recent years, appointees at these agencies have ignored, suppressed, and distorted science. Dedicated federal employees have continued to do their jobs despite immense pressure, but morale has suffered. The good news is that agencies are still staffed with hundreds of thousands of skilled employees whose work can help us meet today's pressing challenges—which include not only recent crises like the COVID-19 pandemic, but catastrophic impacts from problems like structural racism and climate change that we as a nation have not yet given the kind of resources and focused attention required for true solutions.
I hope new leaders at these agencies commit to scientific integrity and science-based public policies, and demonstrate that they will respect evidence regardless of whether it conforms to an administration's political desires. With such commitments, we can realize the potential for US government agencies to improve public health and advance equity.