Public health took center stage in 2020 and especially so for the field of occupational health and safety. The COVID-19 pandemic revealed the highs and lows of worker protections in the U.S., from the deaths of frontline workers who were not provided adequate protection, to workers organizing to demand PPE, paid sick leave, and enforcement of controls to reduce the risk of exposure to the virus.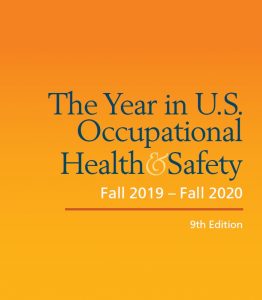 Today, we are releasing the 9th edition of The Year in U.S. Occupational Health and Safety which recaps some of the most significant policy changes, advocacy activities, journalism, and research over the last year. We describe lawsuits filed to compel federal and state agencies to adopt COVID-19 protections for workers; amendments to workers' compensation to cover COVID-19 illness; national and regional investigations by journalists about the impact of COVID-19 on "critical infrastructure workers"; findings published in the Morbidity and Mortality Weekly Report related to workplace exposure to the virus, as well as those from non-profit organizations. In addition, we present a chronology of the COVID-19 pandemic through the lens of occupational health and safety (OHS).
This 9th edition of the yearbook is not only about COVID-19 because it begins with topics from fall 2019 where the 8th edition left off. It will remind readers of the bipartisan passage by the U.S. House of Representatives of the Workplace Violence for Health Care and Social Service Workers Act; a new California regulation on work-related lead poisoning; a new law in Maryland to protect workers from heat-related illness; and a standard adopted in Oregon to reduce workers' exposure to the neurotoxin manganese. Photos in the yearbook include ones from the COSHCON19 in December 2019—the one-of-a-kind conference for OHS advocates.
We hope you read and share with colleagues (and students) the 9th edition of The Year in U.S. Occupational Health and Safety We want it to be a source of inspiration and motivation to advance workers' rights to healthy and safe jobs.
The 1st through 8th editions of the OHS Yearbook are available here as well as below.
The Year in U.S. Occupational Health and Safety (8th edition), Fall 2018 to Fall 2019 (published Nov 21, 2019)
The Year in U.S. Occupational Health & Safety (7th edition), Fall 2017 to Summer 2018 (published Labor Day 2018)
The Year in U.S. Occupational Health & Safety (6th edition), Fall 2016 to Summer 2017 (published Labor Day 2017)
The Year in U.S. Occupational Health & Safety (5th edition), Fall 2015 to Summer 2016 (published Labor Day 2016)
The Year in U.S. Occupational Health & Safety (4th edition), Fall 2014 to Summer 2015 (published Labor Day 2015)
The Year in U.S. Occupational Health & Safety (3rd edition) , Fall 2013 to Summer 2014 (published Labor Day 2014)
The Year in U.S. Occupational Health & Safety (2nd edition), Fall 2012 to Summer 2013 (published Labor Day 2013)
The Year in U.S. Occupational Health & Safety (1st edition), Fall 2011 to Summer 2012 (published Labor Day 2012)