Five individuals were honored this week by the American Public Health Association for their accomplishments to advance occupational health and safety. Formal recognition of their research and advocacy came during an awards luncheon hosted by the association's Occupational Health and Safety (OHS) Section.
Thomas A. Arcury, PhD and Sara A Quandt, PhD of Wake Forest School of Medicine received the Alice Hamilton Award. The distinction recognizes the lifelong contributions of individuals who have distinguished themselves through a career of hard work and dedication to improve the lives of workers. They have investigated occupational factors that undermine the health of immigrant and young farmworkers, poultry processing workers, and construction workers. Their research has examined a diversity of topics including green tobacco sickness, pesticide exposures, falls from elevations, and musculoskeletal disorders.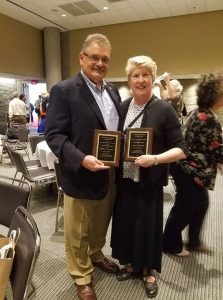 Drs. Arcury and Quandt collaborate with community partners to return research results to the workers, and develop culturally and linguistically-appropriate educational programs that provide workers and their families with information they can use to help attain health sovereignty. They seek to ensure their research is meaningful and accessible to those who advocate with and for vulnerable workers. Most recently, their work was influential to support changes to federal regulations on youth farmworkers and EPA's Worker Protection Standard.  In addition, their poultry worker research has been a valuable resource to organizations engaged in a campaign to improve working conditions for poultry and meatpacking workers.
Drs. Arcury and Quandt have a distinguished record of nearly 200 publications.  They show their dedication to inspiring the next generation of occupational health and safety researchers by mentoring numerous MD and PhD researchers.
The OHS Section's International Award was presented to Rima Habib, PhD, MPH, MOHS of the American University of Beirut. Dr. Habib is Professor and Chairperson of the Department of Environmental Health in the School of Health Sciences. She has a distinguished career examining health disparities for marginalized workers and unrecognized labor in Lebanon and the larger Arab region.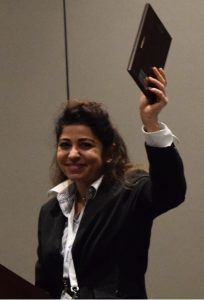 Dr. Habib's research has provoked new advocacy on behalf of farm workers and agricultural communities in Lebanon. It has influenced policy makers to recognize women's domestic labor and its impact on individual and community health. In addition, Dr. Habib has been engaged in health research on behalf of Lebanon's refugee communities to compel policy attention on the relationship between levels of social and economic deprivation and a cascade of morbidities. Dr. Habib has been a leader in organizing colleagues and allies to call for greater international financial support for economic and social reinvigoration of refugee communities. Her research and advocacy contributes to broader regional and global debates on development policies, geopolitics, and health.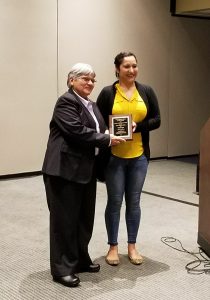 Martha Ojeda, senior field organizer with Interfaith Worker Justice received the Tony Mazzocchi Award which recognizes grassroots activists in community organizations or local labor unions who are fighting for the health and safety rights of workers.
Ms. Ojeda worked for 20 years in maquiladoras in Nuevo Laredo, Mexico. In 1994, she led the movement of Sony workers to improve their working conditions. Thousands of women took the streets demanding their rights to form unions, and they were beaten and brutally repressed by police forces. The government ordered Ojeda's arrest.
The Sony workers' case was the first action  brought by the U.S. Department of Labor against the Mexican government under the labor side agreements of the 1994 North American Free Trade Agreement. Ms. Ojeda immigrated to the U.S. to escape persecution by the Mexican government. Law students in San Antonio, TX supported her to secure political asylum. Ms. Ojeda has served in leadership positions in numerous social justice organizations, including the Coalition for Justice in the Maquiladoras and Fe y Justicia Worker Center. She graduated from the University of Saltillo and the Centre for University Studies and has a law degree. Ms. Ojeda has been a leader in connecting local worker justice centers to the occupational health and safety movement.
Doug Parker, the executive director of Worksafe, received the OHS Section's Lorin Kerr Award for his sustained and outstanding efforts to improve the lives of workers. Parker served in senior positions at the Mine Safety and Health Administration and was deeply involved in the agency's response to the 2010 Upper Big Branch mine disaster. Parker is a labor attorney who also worked for the United Mine Workers of America and for the late Senator Paul Wellstone.
Congratulations to each of the awardees for their contributions to working people in the U.S. and abroad. The American Public Health Association honored the accomplishments of other public health leaders at an awards ceremony on November 5, 2017. More here on those distinguished awardees.