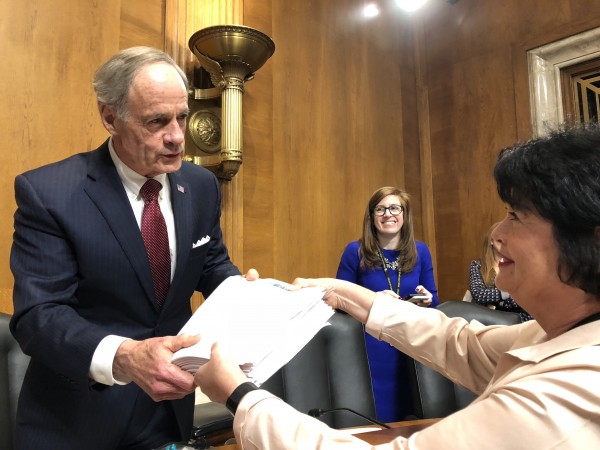 Linda Reinstein was in the audience at this week's hearing of the Senate Committee on Environment and Public Works. She did not want to miss the testimony of EPA Administrator Scott Pruitt about his agency's implementation of the 2016 amendments to the Toxic Substances Control Act (TSCA).
Reinstein wondered and she hoped. Would any Senator probe Pruitt about banning asbestos? The deadly carcinogen is banned in 58 countries, but still legal in the U.S.
Senator Jeff Merkley (D-OR) did not disappoint. He prodded Pruitt to take a stand about asbestos. Reinstein listened intently because it's personal. In 2006, her husband Alan, 66, died from pleural mesothelioma, a rare cancer caused by exposure to asbestos.
Merkley asked Pruitt to comment on President Trump's assertion that asbestos is 100 percent safe. Trump wrote that in his 1997 book The Art of the Comeback.
Merkley asked: "Do you disagree with the president when he says that asbestos is 100 percent safe." [01:53:20]
Pruitt refused to say he disagreed with the President. He answered this way instead: "No it's something we ought to seek to do all we can to eradicate."
The U.S. Geological Survey reports that 340 tons of asbestos were imported to the U.S. in 2016. Most of that—as much as 95 percent—is used by OxyChem and other firms in the chloralkli industry.
Merkley asked Pruitt: "Are you inclined to grant an exemption to the industry that imports 95 percent of asbestos into the United States?"
Pruitt responded: "Senator I'm not. That's something I'll have to look into—the status of that petition."
How did Pruitt's responses sit with Reinstein?
"The American Chemistry Council is a strong influence at the EPA. Indicated by their numerous meetings with EPA, the chloralkali industry is lobbying hard for an exemption. Claiming they have safe and controlled use of asbestos is utterly preposterous."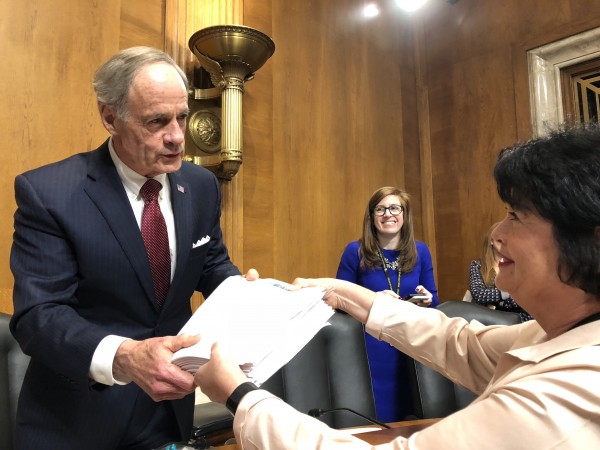 Reinstein traveled from her home in southern California to attend the Senate hearing. In her bag were petitions with more than 11,000 signatures. They call on EPA to ban asbestos without any exemptions for the chloralkali or any other industry.
Reinstein is a widow on a mission, but she's not alone.
"As I held hundreds of pages of signatures supporting an asbestos ban without exemptions, I was reminded of the human cost of inaction. Many people who signed had also experienced pain, suffering, and loss.
"I am never alone in my work. There is an army of experts, trade unions, lawmakers, and victims to support banning asbestos. The time is now to end the carnage."