The headline in the East Peoria newspaper was "Streator teen killed in workplace accident."  But the details of what happened to Hunter Austin Wolfe, 17, tells me his death was anything but "an accident."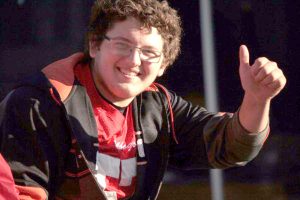 On July 17, 2017, the rising high school senior was working at Luckey Transfer in Streator, IL. He was about 13 feet off the ground working on top of a rail car. It was parked under an energized power distribution line.
According to OSHA, his task was to collect material through the lift-up hatches on top of the rail car.
"After taking several small hand-sized samples with a coffee can attached to an approximate 5 feet long broom stick, the employee rested the sampler on the walking platform. The employee then climbed a fixed ladder and brushed against an energized 12kv primary power distribution service line and was electrocuted."
The youngster was found on the ground by co-workers. He'd suffered burns and fatal head trauma.
OSHA conducted an inspection at Luckey Transfer following Hunter Wolfe's death. It resulted in six serious violations against the firm and a proposed $62,454 penalty. The citations note that employer violated the requirement for safety clearances at least 10 feet from energized conductors. The tasks assigned to Hunter Wolfe required him to work as close as 4-12 inches from the power lines. The inspector indicated that Wolfe's task getting the samples put him in
"immediate proximity to energized, unguarded, and not insulated high voltage electric power line running parallel to and above railcars."
No worker—not a 17 year old or a 70 year old—should be exposed to such a deadly hazard. Ensuring that unsafe conditions are identified and corrected is the employer's responsibility. It's ignorant to have a worker in close proximity to any energized power line, let alone 13 feet in the air on a rail car. I can only shake my head thinking about this one.
But there's more. While conducting its investigation, the OSHA inspector noted dangerous ways in which forklifts were used. The firms used the equipment to lift workers up to 13 feet in the air to the top of the rail car.
"Forklift operators were assigned to elevate personnel in an unapproved work platform for connecting product transfer hoses and rinsing the silo's interior for product changeover."
The firm also used forklifts unsafely to unload material from trucks.
"[Employees] were required to get under elevated portions of loaded trucks to untie the bottom discharge chute on super sack's for transferring product, and to retie it during active product transfer. Employees were exposed to crushing hazards from failing/lowering forklift's components and/or the falling load."
OSHA issued its citations to Luckey Transfer on January 10, 2018. They settled with OSHA soon after, agreeing to pay $43,500 and fix the hazards identified by June 1.
Hunter Austin Wolfe, 17, would be finishing up his senior year at Streator Township High School had Luckey Transfer followed the law. Wolfe's death was no "accident." It was preventable.