The social justice organization Witness for Peace Southeast (WFP) launched their seven-day pilgrimage this year in Morganton, NC. The city is home to hundreds of poultry workers who are employed at the Case Farms poultry processing plant. WFP chose the City of Morganton to highlight worker safety and dignity on the job as key issues of social justice.
Case Farms is a company with a notorious record for worker safety violations. Machines are not properly guarded and it repeatedly violates standards to protect workers and the community from releases of highly hazardous chemicals including ammonia. OSHA found that workers who suffer injuries have been fired. This includes a 17 year old who had his left leg amputated from the knee down. Case Farms processes 2.8 million chickens per week. The company supplies chicken products to Kentucky Fried Chicken, Popeyes, Boar's Head, and others.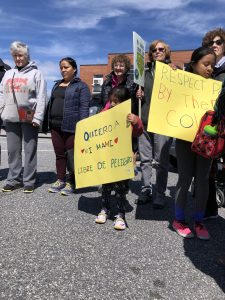 At the Case Farms poultry processing plant in Morganton, the workers have an even more basic complaint. Workers want to use the bathroom when nature calls.
Irma Matul worked for six years at the Case Farms plant in Morganton, NC. She spoke at a convening of workers in August 2017, saying:
"They won't let you go to the bathroom if you ask to go to the bathroom. Sometimes they even shame the workers that need to go to the bathroom.

It is very sad because they don't give access to go to the bathrooms when workers have the biological need to go to the bathroom."
Irma Matul is a member of the Western North Carolina Worker Center (WNCWC) located in Morganton.
On Palm Sunday, March 24, members of WNCWC joined with Witness for Peace Southeast pilgrims for a vigil outside of the Case Farms plant.
Bacilio Castro, an organizer with WNCWC) offered me a recap of the event:
"Tuvimos un momento de reflexión sobre la Semana Santa y sobre el sufrimiento de la vida de Jesús cuando llegó en esta tierra hace 2000 años y cómo lo relacionamos con la vida actual de los trabajadores que sufren abusos, maltratos e injusticia en las áreas de trabajo alrededor de la nación. Luego tuvimos dos cantos que cantamos todos juntos, y después, Francisco Risso nos guiô con una oración con todo el grupo. Después, les dimos gracias a todo los participantes por ser parte de la peregrinación y su gran apoyo al movimiento laboral."

[Translation: We had a moment of reflection about Easter time and about Jesus' life years ago related to workers' suffering abuses and injustices at the workplace around the country. Then we sang a couple of songs, and Francisco Risso led a prayer together with the whole group. Afterwards we gave thanks to the group for being part of the pilgrimage and supporting the Worker Center and labor movement.]
Hunter Ogletree with WNCWC explained the importance of linking faith communities to issues of workers' rights. He notes that individuals who fight for social justice—issues of income inequality, racial discrimination, abuse of power—are allies in the fight for dignity at work.
"Witness for Peace Southeast's annual pilgrimage has included a stop in Morganton for the last several years. Their Holy Week march through North Carolina attracts attention and can build for us a broader base of support, especially with consumers."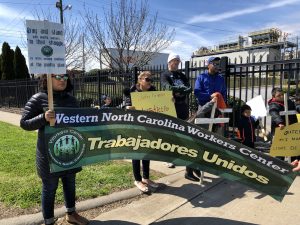 That broad base of support was key to a recent victory for poultry workers. In January 2018, the USDA rejected a petition from the National Chicken Council that asked the agency to offer waivers so that plants could increase their production line speeds. (The Chief Financial Officer of Case Farms, Mike Popowycz, was Chairman of the National Chicken Council when the petition was developed.)
During the WFP pilgrimage through Morganton, members of the worker center described their role in the campaign to oppose the industry's line speed petition. Together, the poultry workers and pilgrims celebrated the victory.