Mail carrier Larry Chandler is always on the lookout for dogs.
"In this neighborhood, they just run kind of wild. …I'm familiar with the dogs along this street—where they are, where I should go, where I can't go."
Chandler's route is in Greensboro, NC. It was the site this week of a dog attack to a fellow mail carrier, Katherine Cashion. She told KXII NBC 12 News the dog came out of nowhere.
"I was in so much pain, I thought the blood was just gushing, it hurt so bad."  She had to use her hand-held scanner to hit the dog off her leg.
The U.S. Postal Service (USPS) released numbers this week on the number of dog attacks on mail carriers. In 2017, there were 6,244 such attacks. Houston and Los Angeles at the top of the USPS' list for the highest number of dog attacks, 71 and 67, respectively.
USPS doesn't provide a ranking on a per capita basis. I used 2016 Census Bureau data to come up with city-specific rates per 100,000 residents. St. Louis, Cleveland, Toledo, and Cincinnati top the list with mail-carrier involved dog attacks per 100,000 residents of 16.7, 12.7, 8.9 and 8.4, respectively.
Like many employers, the USPS is required by OSHA to report amputations and injuries that result in amputations. Some of that data is available on-line and reveals the severity of the dog-attack injuries suffered by mail carriers. For example:
In Missoula, MT: "a customer's dog attacked and partially amputated the employee's left ring finger."
In Batavia, IL: "bitten by the homeowner's dog that resulted in hospitalization and 26 stitches to the jaw."
In New Orleans, LA: "a dog bit his right hand, amputating the right index finger at the first knuckle."
In Smyrna, GA:  "a dog attacked him, causing an amputation injury to his left index finger."
In Coon Rapids, IA: "a dog jumped on him and knocked him to the ground. He lost consciousness and suffered a fractured skull and brain hemorrhage."
I asked a USPS spokesperson about their policy for withholding mail delivery because of an unrestrained dog. Here's their response.
"Postal Service mail carriers take pride in delivering mail promptly and efficiently. That means being able to approach their customer's mailbox without interference from a pet. It is the dog owner's responsibility to control their pet. Most communities have ordinances for the control of dogs. In spite of the fact that Postmasters have frequently requested customers control their dogs, and have discontinued service to control this problem, injuries still continue."

"Collection and delivery service personnel are to report the name and address of the customer where such interference occurs to the Postmaster or authorized supervisor, who must immediately telephone the customer and request that the animal be confined during the usual delivery hours in the neighborhood. The Postmaster or authorized supervisor must further inform the customer that (1) no deliveries will be made until this is done, and (2) service will be restored upon assurance that the animal will be confined. In extreme cases, delivery to an entire block or neighborhood may be affected until the situation is resolved."

"The Postal Service regrets any inconvenience the interruption of mail delivery may cause; however, most would agree that the Postal Service must protect its employees from potential injury."
Mail carrier Larry Chandler told KXII NBC 12 that he keeps a dog repellent spray in his bag. Consistent with USPS policy, Chandler says: "You secure your dog, I'll deliver your mail."  I think that's a fair deal.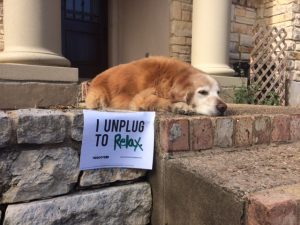 Our dog Laredo (left) is a 14 year-old, 70 pound golden retriever. He likes to hang out on the front porch.
Many mornings, Laredo waits to bark at the mail carrier's truck. For the mail carrier's safety and peace of mind, Laredo's always restrained by a leash or rope.