Last week, officers with Immigration and Custom Enforcement (ICE) conducted raids at three facilities operated by Fresh Mark, a northeast Ohio company that processes bacon, hot dogs and lunch meat.  It was the largest enforcement action to-date by the Trump Administration at a workplace.
ICE agents arrested 146 workers at the company's plant in Salem, OH who are suspected of not being authorized to work in the U.S. ICE conducted raids at the company's plants in nearby Massillon, OH and Canton, OH, but no arrests were made at those workplaces.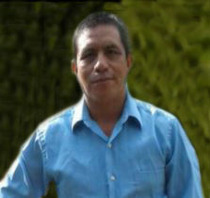 Just a few days before the ICE raids, OSHA delivered a slew of citations to Fresh Mark for safety violations at the company's Canton, OH plant.  The citations stem from a horrific incident on December 16, 2017 that killed Domingo Ramos, 49.  Ramos, a Guatemalan immigrant, was fatally injured when his foot got caught in a meat grinding auger.  OSHA inspectors found the safety barrier on the auger had been removed.
The grievous hazard is something that should be very familiar to officials at Fresh Mark.  OSHA inspectors previously identified the same problem at the company.  Just two months before Ramos' death, Fresh Mark paid a $4,900 OSHA penalty for exposing workers to an unguarded meat auger.
When I read about the ICE raids at Fresh Mark, I thought about harsh working conditions at meat packing plants. I thought about the physically demanding tasks for the workers. There are dangerous hazards everywhere. To protect workers from injuries, you need an environment where workers don't fear raising safety concerns.  That won't happen with immigration policies that create a climate of fear where workers are afraid to speak up.
Steve Grazier with IndeOnline asked Massillon city council members to comment about the ICE raids at Fresh Mark. Among the responses, Council President Claudette Istnick said:
"I'm a real rule follower, and you want the law to be followed."
Sarita Cunningham  said:
"If someone was aware (of the lawbreaking) then you pay the consequences."
Linda Litman said:
"We have rules in place, and all should be responsible enough to abide by the rules."
It makes me wonder (and hope) that the local officials would say the same thing had Grazier asked about the OSHA citations against Fresh Mark. OSHA cited the company for 12 serious and one repeat violation at its Canton, OH.  Most of the violations involve failing to ensure that equipment is de-energized against unintentional start-up (i.e., lockout/tagout).  OSHA proposed a $209,000 penalty for the violations.
Massillon council member Paul Manson told IndeOnline's Grazier his thoughts about the ICE raids at Fresh Mark. How pleased I would be if he repeated his response about the OSHA violations. Manson said:
"There are industries that prey on these workers. … Maybe we need to start putting some of these businesses in the hot seat."
Footage from the ICE raids at Fresh Mark are of workers being ushered away. They are still wearing their protective gear. The footage—provided by the Department of Homeland Security—emphasizes the arrest of workers.  I've yet to see any footage of Fresh Mark's owner being hauled away in handcuffs.  As Christine Owens with the National Employment Law Project notes, the Trump administration's immigration policies will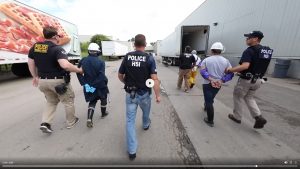 "drive other immigrant workers subjected to substandard conditions further into the shadows and further deteriorate working conditions across already low-wage industries across this country."
Adam Ferisse at the Cleveland Plain Dealer reports on the OSHA citations and on previous fatalities at Fresh Mark. Those fatalities include the September 2011 death of Marcos Perez-Velasquez, 20, another Guatemalan immigrant. He was electrocuted while working on the third-shift sanitation crew.