When they received the test results, Pulitzer Prize winning journalists Barbara Laker and Wendy Ruderman encountered a moral, ethical and journalism dilemma unlike any they had ever faced in their long careers at the Philadelphia Inquirer and Daily News.
"Could we sit on something hazardous like this, just to hold it for our story?" Laker asked.
What the reporters discovered was essentially a toxic waste site — right in middle of a busy hallway in an elementary school in a struggling Philadelphia neighborhood. Each day, year in and year out, in a city with a 25 percent poverty rate, the students and teachers  at Olney Elementary School faced a situation with long-term potentially fatal health effects.  And the problem wasn't going away.
In their work, journalists know they may encounter situations that put ethics and morality into conflict. Are they journalists first who remain detached and apart, or do they abandon their notebooks and cameras and step in to intervene, most often in grave situations of life and death?
"Our story wasn't ready yet, but we had found a highly toxic situation," Ruderman said. "We had a dilemma — moral and ethical."
And those situations came up regularly for Laker and Ruderman and their colleague, Dylan Purcell, as they reported for their ongoing prize-winning Toxic City series.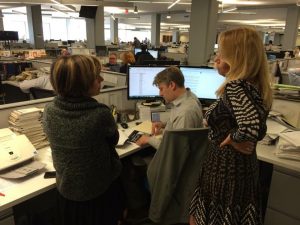 In the Inquirer and Daily News newsroom, Ruderman and Laker are known for their reporting chops and their friendship. Laker just turned 60; Ruderman threw the surprise party. Ruderman is short, feisty and famous for never wearing any shoes other than sneakers when she's reporting. Both are divorced. Laker's children are older, while Ruderman's are still in school. Both bring a mother's perspective to their work.
They are old-fashioned reporters. Like anyone else in the business, they know how to comb the internet for what's necessary, but they also rely, more so than many, on classic legwork. Back in the newsroom, they can count on Purcell, a journalist known for doggedly digging into data.
It took the trio six months, for example, to find the name of one first grader who had been hospitalized for lead poisoning, track down his parents and persuade them to talk. It was just one boy, but his story would support the weight of the entire project – humanizing the dry scientific data, the tedious twists of bureaucracy and the overwhelming nature of the problem.
The legwork? Laker took to visiting the boy's school at dismissal in hopes of meeting parents who could connect them to the boy's parents. Eventually it paid off.
"It was a nightmare," Laker said.
"Writing about invisible hazards is beyond difficult," Ruderman said.
"People want a face, and that kid was adorable," Laker said.
That adorable kid also lost his previous ability to do simple calculations, like add three and three in his head. Why? Lead poisoning. He had been eating paint chips that fell on his desk because he didn't want it to be messy.
Laker and Ruderman earned a Pulitzer Prize in 2010 for exposing corruption in a squad of the Philadelphia police department. Their reporting required visits to some of the city's most dangerous neighborhoods in search of victims and witnesses.
Their interest in the Toxic City project didn't start in the schools. When the story broke about lead contamination in Flint, Michigan's tap water, they wondered about Philadelphia's water. They moved from there to stories about lead in rented homes.
"A lot of landlords don't get rid of the lead," Laker said. They say they do, but they don't. "Philadelphia has so much old housing and so many slumlords and such high poverty," Laker continued.
From there, their interest moved to Kensington and Fishtown, side-by-side gentrifying neighborhoods in Philadelphia, with families and young children moving into rowhouses once inhabited by lunch-box laborers who worked in the 14 lead smelting factories, now closed. With new houses erected at record pace and old buildings being demolished, construction was non-stop in these neighborhoods. Lead dust, stirred up by the construction, was everywhere. Backyards were contaminated. Front stoops, the center of Philly's rowhouse social culture, were toxic.
The young parents, sophisticated and educated, were in an uproar, and some changes ensued. Some toxic areas were cleaned, but the danger is nowhere near abated. And many the city's older homes aren't in areas inhabited by people with enough savvy, or energy, to move politicians. Besides, many of them have other problems – hunger, the threat of eviction, poverty.
The investigation "changed the way I see everything," Ruderman said. "Lead causes impulsivity, poor concentration and aggressiveness. I started thinking that maybe some of the problems in these crime-ridden areas could be tied to lead."
Thinking about the children, the obvious next step was the schools.
"That story was fucking hell," Ruderman said, using standard newsroom language. The first issue was getting access to the schools. "The Philadelphia School District is very controlling," so they knew they wouldn't be able to get in.
Ruderman and Laker started by relying on Purcell's work. A data geek, Purcell is not only skilled at finding public records, but in slicing and dicing them so they are useful, both for reporters and for readers. He used maintenance records to find hotspots in schools.
Then it was up to Laker and Ruderman to lace up their sneakers and recruit teachers and staffers to become amateur scientists. Besides acquiring an in-depth scientific understanding of lead, asbestos, and other toxins, the two reporters had to learn the correct procedures for collecting samples, build sample collection kits, write instructions and then convince teachers and staffers to sample stealthily.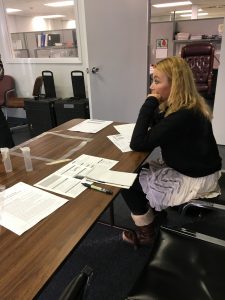 "The teachers were scared," said Laker. "They worried that if they talked to us or helped us in any way, they'd be sent off to Siberia," a rough school in a rough neighborhood, far from their homes. "We'd go to teachers' meetings. We would get banned from Facebook groups."
Recruiting the teachers was a challenge. A few teachers would agree, then go cold, refusing to answer phone calls or emails. Some were so worried that they alerted school officials.
Eventually, after six months, Laker and Ruderman found staffers at 19 schools willing to assist them.
"I had moral problems at this point," Ruderman said. "Should the teachers be wearing gloves? Should we tell them to wear masks? Are we exposing them to more harm?"
In the end, besides urging teachers to take precautions, they reasoned that school staffers were already exposed in that environment. In fact, many teachers, worried about dust, were cleaning their classrooms themselves, not knowing that they were putting themselves at risk as they swept up lead chips and asbestos fibers.
"There should be no asbestos," Ruderman said. But on a busy hallway in Olney Elementary School, a staffer collecting samples of suspected asbestos fibers, lead dust, mold spores and drinking fountain water, turned in shocking results – results analyzed by the International Asbestos Laboratories in New Jersey.
Early on January 25, Ruderman and Laker learned the results. Public and occupational health regulations indicate that anything over 100,000 asbestos fibers per square centimeter is cause for concern and emergency action. The samples drawn from the hallway indicated 8.5 million asbestos fibers per square centimeter.
That's when the moral dilemma kicked in – to alert the district or not. Besides worrying about the public health danger, they also worried about exposing their source, the staffer who collected the sample, to retribution if the person's identity was somehow discovered.
"It was health issue," Ruderman said. "It was a big source management issue."
"We didn't want to do anything to jeopardize that person," Laker said.
They resolved their journalism dilemma on the side of public health and called the school district later that same day.
By Feb. 2, the District sent an abatement crew to the school, particularly to the area near a pipe where most of the fibers were found. "They said they would fix the pipe," Laker said. On Feb. 12, a contractor deemed the air safe for students and faculty, the newspaper reported.
However, the situation was worse, according to a resample taken in late May.
On June 1, Laker and Ruderman learned that levels near the pipe had risen from 8.5 million to 10.7 million.  Again, they immediately reported the data to the school district and updated the situation in a story written a few days later.
The reporters said that the District initially responded by criticizing the validity of their testing: The staffers who collected samples are "not certified, trained professionals and their testing does not meet established industry standards," spokesman Lee Whack wrote in an email that was quoted in the newspaper.
Ruderman said District officials questioned them closely about when the samples were collected and whether they saw the samples. It was a trick question.
"If we saw the tests, then we were trespassing," she said. "If we didn't, it put the validity of the tests in question."
Dr. Marilyn Howarth, director of community outreach and engagement at Penn's Center of Excellence in Environmental Toxicology, told the reporters that even if the tests weren't taken as definitive, they should have been enough to alert official to a serious problem.
In its response, the District affirmed its commitment to providing safe learning environments for the children. "The health and safety of students and staff will always be our top priority," Whack responded. "No single test can ever fully reflect the needs of our school community."
The reporters believed certain staffers were suspected by District officials. "We let them know that we would report that they were putting their efforts into finding our sources instead of addressing the public health issue," Ruderman said.
The reporters' work made a difference, not only for children, but for teachers.
"They investigated it so well. Not only did they do a thorough job, but they presented it in terms people could understand," said Art Steinberg, vice president of the Philadelphia Federation of Teachers and the chief trustee of the union's Health and Welfare Fund.
The fund, he said, has a certain portion allocated to indoor air monitoring, an amount that is always threatened during contract negotiations. Their work strengthened the union's bargaining position.
Given that the effects of asbestos exposure don't manifest themselves for decades, "it's imperative that the asbestos problem be monitored closely and taken care of," he said. A first step would be to hire more cleaners. Thorough cleaning wouldn't fix the underlying problems, but it would mitigate immediate risks.
The health consequences are important, but there are other consequences, Steinberg explained. "If you are in a building that has mold, asbestos, flaking paint and construction dust that have a negative impact on their health," he said. "It also has consequences for their careers. It's kind of hard to teach when the physical conditions are so bad, so it's going to negatively impact their performance evaluations."
Ruderman and Laker's work isn't done. Next is a close look at the asbestos abatement industry. When companies certify that buildings are safe, how trustworthy are those certifications?
To them, toxic conditions in the schools are a social justice issue. "In richer suburban school districts, they'd never allow this to exist," Laker said. In one suburban Philadelphia school district, a school building with mold was closed and demolished.
But even that's complicated. People and faculty are loyal to their community schools. "They don't want to close the school down," Ruderman said. It's expensive to fix, but it can be fixed, Ruderman said, if the people and the politicians have the will. "Think about all the teachers who may have gotten cancer from something they had in their classrooms. We're going to pay for it one way or another as a society."
"You're already paying for special ed for these kids," Laker said. "People are short-sighted."
"If you care about kids and about public schools, you can fix it," Ruderman said. "We want to keep the heat on and sustain it, but it doesn't get a lot of clicks on the website."
Laker: "It's not click bait. That's journalism in today's world."
Ruderman: "It's hard to keep writing and pushing when you aren't getting traction. I think the answer is sustained public shaming. When you have it in a politician's face, what are they going to say?"
The two think about their own safety.
Both dug through the contaminated soil collecting samples. They didn't wear gloves or masks and they say they should have washed their hands more. "I bite my nails," said Ruderman, who tends to worry. "I feel like I'm going to die a slow and awful death. I don't want to think that way, but I think that's my destiny."
Laker shrugs it off. She has already faced some health issues. "Personally," she said, "I feel worse for the teachers."
###
About the Author:  Prizewinning journalist Jane M. Von Bergen covered worker safety as part of her 20-plus years writing about labor, employment and the economy during her 35 year career at the Philadelphia Inquirer and Philly.com. Von Bergen worked at smaller daily and weekly newspapers before joining the Philadelphia Inquirer in 1982. A lifelong reporter, Von Bergen began her newspaper career at age 10, serving on newspapers in grade school, junior and senior high school, and in college, where she was editor-in-chief of Temple University's student daily paper and where met her future husband. She married her college sweetheart, photographer I. George Bilyk. They have two sons and live in Philadelphia.