The co-founder and president of the Asbestos Disease Awareness Organization, Linda Reinstein, published a commentary in Rewire News about Johnson & Johnson's efforts to discredit the link between their asbestos-containing talcum powder and cancer. This is the latest effort by a company or industry to insist that their product doesn't cause asbestos-related cancers. It's also consistent with other ploys which claim that women with mesothelioma didn't get it from exposure to asbestos. As if men can get mesothelioma from asbestos, but not women.
It's personal for Reinstein. Her husband, Alan, died in 2006 from mesothelioma. Since that time, she's developed special friendships across the globe with mesothelioma victims. In her Rewire News piece, "Women: Exposed and Silenced by Asbestos,"  Reinstein shares the stories of five of women—June, Debbie, Janelle, Lou and Stephanie—all five died from mesothelioma.  Reinstein's commentary follows:
Across the country, more than 9,000 lawsuits are pending against Johnson & Johnson that accuse the company of not disclosing that its talcum powder products, such as its famous baby powder, were tainted with cancer-causing asbestos. As juries return million– and billion-dollar verdicts against the company, its representatives are moving to discredit and shift blame onto victims. At one recent trial, they called an expert witness to testify—not only that their product didn't cause plaintiff Rosalind Henry's mesothelioma—but that the majority of women's mesothelioma cases were not attributable to asbestos exposure. I was shocked.
Pushing aside women's health concerns is nothing new. But this attempt to diminish and dismiss women's asbestos exposure in a desperate bid to sway a jury is a new low. And it's a lie.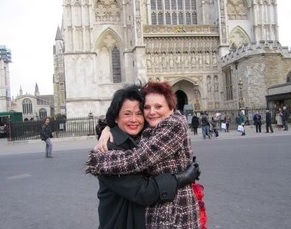 I thought about what the mesothelioma victims I know, June, Debbie, Janelle, Lou, and Stephanie, would say in response. As friends, we had shared our pain, fears, grief, and anger while they struggled with their disease. But they are gone now, and that's why I must share their words and speak out for them, and for the other relatives whom they've had to leave behind.
"Mesothelioma is a miserable disease."  Debbie (1959-2013)
Here's the truth: For more than a century, asbestos exposure has been known to cause disease and death. It is a known carcinogen and there is no safe level of exposure or controlled use.
"It was a matter of weeks and I went from being healthy to fighting for my life. I was told I would not survive mesothelioma, that there was no cure."  Janelle (1973-2013)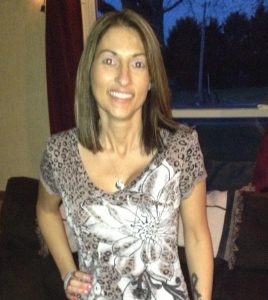 Unsealed documents suggest Johnson & Johnson feared asbestos, the primary cause of pleural mesothelioma, was in its talc—including its baby powder—as early as the 1970s. According to FairWarning, an investigative news organization that focuses on public health, consumer, and environmental issues, a 1971 Johnson & Johnson memo stated, "It would seem more than appropriate that we upgrade the quality control on our talc and baby powder, particularly as to the potential asbestos content." (emphasis mine).
A 1973 internal report acknowledged the presence of this carcinogen at its Windsor Talc Mine in Vermont. What's worse is that the company appeared to know safe, non-lethal substitutes for talc were available, the same memo stated, "Corn Starch is obviously another answer."
"I'm 58 and I have been murdered in slow motion. There is no safe form of asbestos and no safe level of exposure."  June (1950-2009)
Women get sick and die every year because of asbestos exposure. In fact, it was a woman, Nellie Kershaw, whose case was first documented in medical literature and whose death led to publication of the first Asbestos Industry Regulations in 1931.
From 1999 to 2016, nearly 50,000 Americans died from mesothelioma, 20 percent of them women —the vast majority due to some type of asbestos exposure. It's true: More men were, and are, exposed to asbestos through their work. However, women still suffer. Some are exposed at on the job, others in their homes. In some instances, their husbands or fathers may have carried asbestos home from work and into the house. In 1987, the International Agency for Research on Cancer reported "a third of the mesotheliomas occurring in the USA may be due to nonoccupational exposure." Even more heartbreaking are cases that stem from a child who hugged a parent who wore asbestos-contaminated clothing.
"My father worked in the building trade in the 1970s and died a terrible painful death of pleural mesothelioma in 1985 after only six months …. Being diagnosed with this cancer through no fault of mine has cut my life short!"  Lou (1954–2017)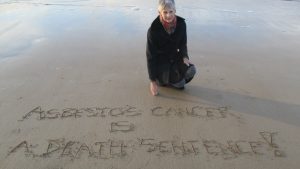 Mesothelioma is just one of many asbestos-caused diseases. Asbestos also causes lung, ovarian, laryngeal cancers, and respiratory diseases such as asbestosis. Women die from this toxic substance. They get cancer because of this toxic substance. No expert, no testimony, can erase that fact.
Companies like Johnson & Johnson sold products contaminated with asbestos after studies showed the link between powders containing talc and incidences of disease. In court today, Johnson & Johnson is still trying to shirk its responsibility—to ignore the evidence that these chemicals have had a unique and terrible impact on women's health.
Enough is enough. Most countries around the world have banned asbestos, yet women and families in America are still exposed to this carcinogen far too often. Johnson & Johnson isn't alone. In 2015, Colgate-Palmolive faced multimillion-dollar lawsuits for cancers caused by its asbestos-contaminated talc products. These are products that have been specifically targeted toward women, including young women. Without a ban, we also import millions of dollars worth of asbestos-contaminated consumer goods every year. Independent testing found asbestos in children's toys, crayons, and cosmetics as recently as 2018.
"My physical life is a shadow of what it used to be."  Stephanie (1977-2015)
Asbestos also infects our schools. In 1990, EPA reported to Congress that one in four schoolchildren and their teachers are at risk of being exposed in the classroom. Then in September, the EPA Office of the Inspector General noted the situation has worsened, as schools have failed to make and follow plans to keep students safe from asbestos. The full extent of the remaining hazard is currently unknown. We have to take action.
History is a great teacher to those who listen. June, Debbie, Janelle, Lou, and Stephanie, paid the ultimate price for corporate greed. While there is no rewind button for them, nor their families, there is a way forward: Congress and the EPA can embrace legislation to end the asbestos man-made disaster and spare more families their grief.
Linda Reinstein became an activist after her husband, Alan, was diagnosed with mesothelioma in 2003. She co-founded the Asbestos Disease Awareness Organization (ADAO), the leading international advocacy organization fighting to prevent exposure to asbestos and thus end asbestos-related disease.