It was only 50 yards from the front door, just outside the parking lot fence.  It was hidden by brush, an worn tire, plastic bottle, and random garbage.  Only one of the individuals assembled in Houston at the Seafarers International Union Hall knew it was there.  A monument erected to recognize the workplace safety record in 1929 of the Trinity Portland Cement Company.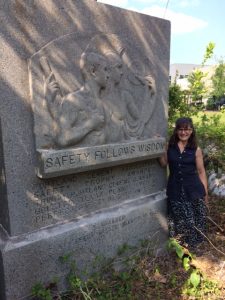 We gathered on Saturday, April 28 to commemorate Worker Memorial Day.  We read the names of 70 workers from the Houston area who were fatally injured on the job in 2017.  We acknowledged the 40 others who also died from traumatic injuries but whose names we did not know.  We recognized that several times that number died last year from occupational illness. Our event was one of the hundreds organized around the globe to remember adults and children who die every year from workplace hazards.
Our program concluded with remarks by Mark Briggs, one of two OSHA area directors responsible for the Houston area.  I knew he would have something meaningful to say (which he did) but I wasn't prepared for a bit of local history.
Briggs had done some digging.  He'd learned that the Seafarers Union hall was built on or near the site of the Trinity Portland Cement Company.  Somewhere close-by was the safety monument—the only relic remaining of the old plant.  He asked, "has anyone seen it?"  We were puzzled and intrigued.
The program concluded but dinner had not yet arrived.  I told the OSHA director we needed to find it.  We walked to the vacant field adjacent to the union hall.  If the monument was small, we'd never see it under the tall weeds.  We checked the map again.  We walked back and then past the union hall's parking lot to a gravely driveway.  We looked ahead at a telephone pole. Through some thick brush at the base of the pole, we saw a grey structure.  Like treasure hunters, we found it. The monument was standing tall and not vandalized. It seemed to be waiting for infrequent visitors.
The monument was engraved with the following:
"Safety Follows Wisdom. Portland Cement Association Safety Trophy Awarded Trinity Portland Cement Company Houston Texas Plant for Perfect Safety Record in 1929. Reawarded for a Perfect Safety Record 1945, 1947, 1950."
Ninety-years ago, did a perfect safety mean no "widow makers"?  Who knows.  But finding the safety monument at our Worker Memorial Day event was a bonus. It's something I won't forget.
Safety Follows Wisdom.  Wisdom signifies knowledge and learned lessons. Safety Follows Wisdom implies applying that knowledge to ensure safety.
We are not wise when we know why workers are injured and killed at work but we don't use that knowledge to prevent it from happening again.