On Labor Day, we released the 7th edition of The Year in U.S. Occupational Health & Safety. The yearbook is our effort to document in one place the most significant policy changes, advocacy activities, journalism and research over the past 12 months.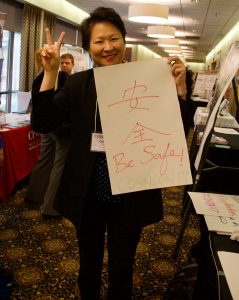 The first section of the yearbook highlights activities at federal OSHA, EPA, the Chemical Safety Board, and other federal agencies. Just a few of the topics we recap include:
the Trump administration's proposal to merge OSHA, MSHA, and the Wage and Hour division into a single enforcement agency, as well as their plan to to consolidate NIOSH under the National Institutes of Health and eliminate the Chemical Safety Board;
the status of industry lawsuits on the OSHA rule for employers to submit injury records to the agency;
the campaign by poultry and meatpacking workers to fight USDA policies on line speeds and chemical disinfectants because they adversely affect workers' health;
proposals by the EPA to rollback pesticide protections for farmworkers and gut a rule for chemical plant safety; and
NIOSH initiatives to examine the nexus between the opioid crisis and work-related injuries.
The OHS Yearbook 2018 is filled with photos contributed by state and local COSH groups, such as the one to the right of Chee Chang who is with the Safety and Health Department of the International Brotherhood of Teamsters. Photos in the yearbook capture the spirit and vibrancy of the OHS movement.
Highlights from other sections of the yearbook were posted this week on The Pump Handle (here, here. and here)
This is the seventh consecutive year we've prepared the yearbook. The first six editions of the OHS Yearbook can be found here.