The deadly world of garbage collection in New York City and indentured servants in the U.S. poultry industry are just two examples of excellent journalism that are recapped in the 7th edition of The Year in U.S. Occupational Health & Safety. The 2018 yearbook was released on Labor Day.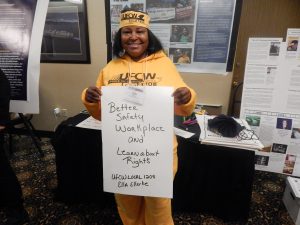 We had to make some tough choices about which stories from investigative journalists to include in the yearbook. Section three of the yearbook profiles our top 15 picks and they include:
Kiera Feldman at ProPublica with "Trashed: Inside the deadly world of private garbage collection";
Peter Waldman and Kartikay Mehrotra for Bloomberg Business Week with "America's worst graveyard shift is grinding up workers";
Thomas Fox Parry for The Atlantic with "The death of a gig worker";
and Dave Jamieson at the Huffington Post with "Don Blankenship's mine took this man's son, brother, nephew. Now Blankenship wants his vote."
This section of the yearbook also features information on the #MeToo movement and the Our Turn alliance convened by National COSH to end workplace sexual harassment.
The final part of the yearbook, section four, highlights some of the best peer-reviewed papers on worker safety and health topics, such as two studies examining the capacity of immigrant workers to safely perform disaster clean-up following extreme weather events; and two studies investigating the capacity of community health centers to integrate information about patients' work experiences in clinical encounters. In all 14 papers from the peer-reviewed literature are featured in the OHS Yearbook 2018.
We also recap 10 entries on worker safety and health topics that were published in the CDC's Morbidity and Mortality Weekly Report, many written by or in collaboration with NIOSH researchers. Finally, OHS Yearbook 2018 wouldn't be complete without reminders of the research and policy reports released over the past 12 months by unions, worker centers, and progressive policy organizations. They include:
"Dying on the Job in Mississippi" by the National Employment Law Project and the Mississippi Workers' Center for Human Rights;
"Protect Your Health at Work: Here's How" by Midstate COSH; and
"The Dirty Dozen 2018: Employers Who Put Workers and Communities at Risk" by National COSH.
The OHS Yearbook 2018 is filled with photos contributed by state and local COSH groups, such as the one above of Ella Ellerbe with UFCW Local 1208 in Tar Heel, NC.
Highlights from other sections of the yearbook were posted this week on The Pump Handle (here, here, and here.) This is the seventh consecutive year we've prepared the yearbook. The first six editions of the OHS Yearbook can be found here.